Saturday July 6, 2019
Ride Times

Jerry Schurink's riding career dates back to the late 1970s. In 1979 he received his Beriter certification, the college degree for riders and trainers in Germany. He was named the United States Dressage Federation Young Rider of the Year in 1980 and in 1982-84 was selected to train at the U.S. Equestrian Team facility in Hamilton, Mass., with Jack LeGoff.
In 1997 he was invited to train with U.S. Eventing Team Coach, Captain Mark Phillips in Millbrook, N.Y. He is also a founding member of the USEA Instructor Certification Program, and was the Director of Equne Studies at UMASS Amherst before moving to Virginia.
Currently, Schurink is an instructor, trainer, coach and competitor in dressage, eventing and jumper/equitation. He is also a multi-discipline equestrian clinician and an equine business consultant.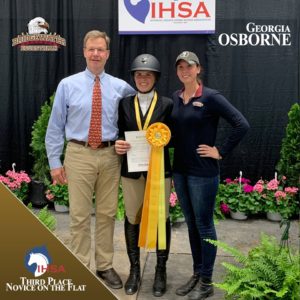 Clinic Scheduling and Rates:
Semi private sessions or groups of 3-4.  Feel free to build your own groups!  Private sessions by request only if space allows.
Every effort will be made to accommodate ride time preferences, priority  given to creating homogeneous groups.
Registration and payments received  Before June 22:  $140,   After June 22  $165
On-line clinic Registration and Payment
  Audit fee: $20,  (each particpant is allowed to bring 1 auditor for free)
Stabling: There are a limited number of stalls available to those staying over for the YEH competition the next day at the rate of $50.  Please use the stabling  form below to reserve a stall.
** Clinic fees are non- refundable but can be transferred to another participant if needed

This clinic is a USEA activity,   making it eligible for the Area1 Adult Rider voucher program.  Join the Area 1 Adult Rider program and save $50!
Forms: